INFORMATION FOR PARENTS
Information for Pear Tree Class 2020 - 2021. Welcome to our class page!
Year 1 Pear is taught by Mrs Connolly with support from Miss Peacock and Miss Birks.
A member of staff will be in the cloakroom to welcome children every morning. If there are any messages to be passed on for that day, they can be given to us then. Please feel free to come and speak to Mrs Connolly after school any day!
PE: PE lessons will be Thursday morning and Friday afternoon each week and children will need to wear PE kit to school on those days. If your child has earrings these will need removing on PE days. Long hair will need to be tied back for all PE lessons.
Reading books:
Reading books will be sent home on a Monday and must be returned on the Friday to be quarantined over the weekend.
Homework:
Homework will be sent home every Friday to be returned the following Thursday.
Spellings: Spellings will be sent home every Monday and will be tested the following Monday.
Library books: Library books can be chosen by your child on a Friday afternoon. They can be taken home but must be returned to the class library box between Monday - Wednesday in order to exchange for a new library book on Friday.
Our weekly timetable can be viewed
here.
This has been adapted to include guided reading each day from November onwards.
Please CLICK HERE to access ideas and online games you can use at home to support learning in Year 1
Work for children isolating - w.c 30th November
Work for children isolating - w.c 23rd November
Work for children isolating - w.c 15th November
Work for children isolating - w.c 9th November
Work for children isolating - w.c 2nd November
Please see our newsletters below:
These are the non-negotiables for Year 1 writing:
We have started with the first 3 so far.
1. Capital letters to start a sentence.
2. Full stops to finish a sentence.
3. Finger spaces between each word.
4. Neat writing in pencil.
5. Use your phonics and tricky words.
6. Read your work back and check these 5 things are correct.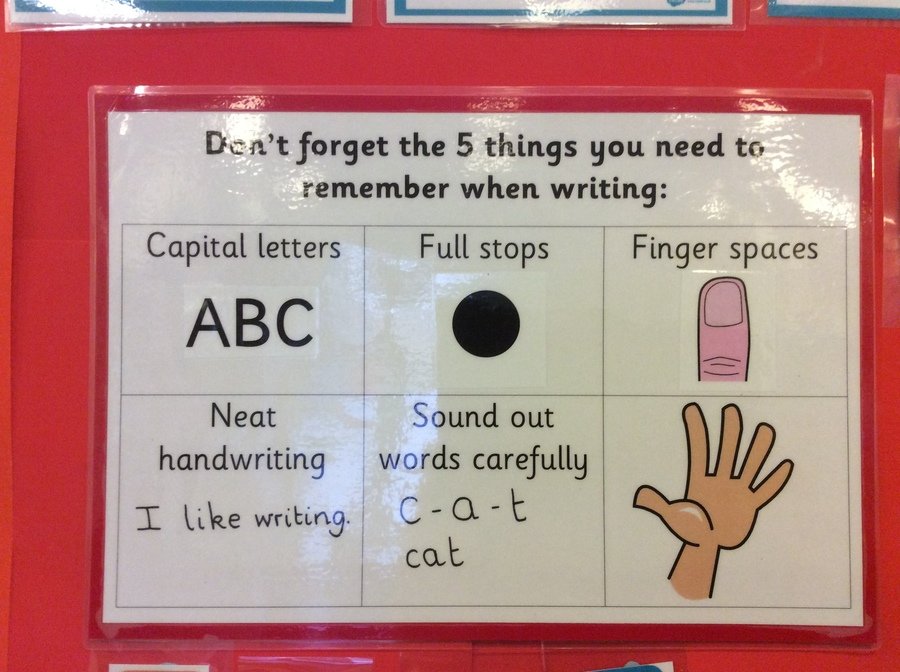 Phonics is really important in Year 1.
Phase 3 sounds are taught in Reception
Phase 4 blends are taught in Reception and Year 1 Autumn term.
Phase 5 blends are taught in Year 1 Autumn 2 and Spring terms.
We read lots of words that contain these sounds. It would be lovely if you can practice reading words (real or nonsense) at home!