Friday 17th January
We have enjoyed exploring ice through our senses this week.
We talked about which things, other than water, we can freeze and what makes it melt. Our frozen palace was popular and prompted lots of imaginative play.
In maths we filled different sized containers with blue sand, talking about full and empty, using different sized scoops and spoons. We also counted penguins and made our own icy penguin display.
Our new starters are quickly learning our routines and making friends, some feel like they've been with us forever!
Next week: winter and snowmen.
Friday 10th January Happy New Year!
Welcome to all our new children and their families and welcome back to all our 'old timers!'
We have had a busy but enjoyable first week back. Our established children were happy to be back, see their friends and showed real kindness to the new starters. The new children seemed to have fun and really settled well. A lovely way to start the new year!
We spent some time exploring the weather this week, talking about winter and finding out what happens on a windy day.
Next week: winter and ice.
Please remember to label all your children's belongings with their name.
Friday 20th December
We made it!
This week the children have performed a Nativity, met a police officer, made Christmas cards, played party games, had a visit from Santa and packed away a lot of goodies. They have coped with fog, ice, rain, coughs, colds and tummy bugs and are still SMILING!
Thank you for your kind messages, cards and gifts. I hope you and your family have a super Christmas and some special family time!
Merry Christmas!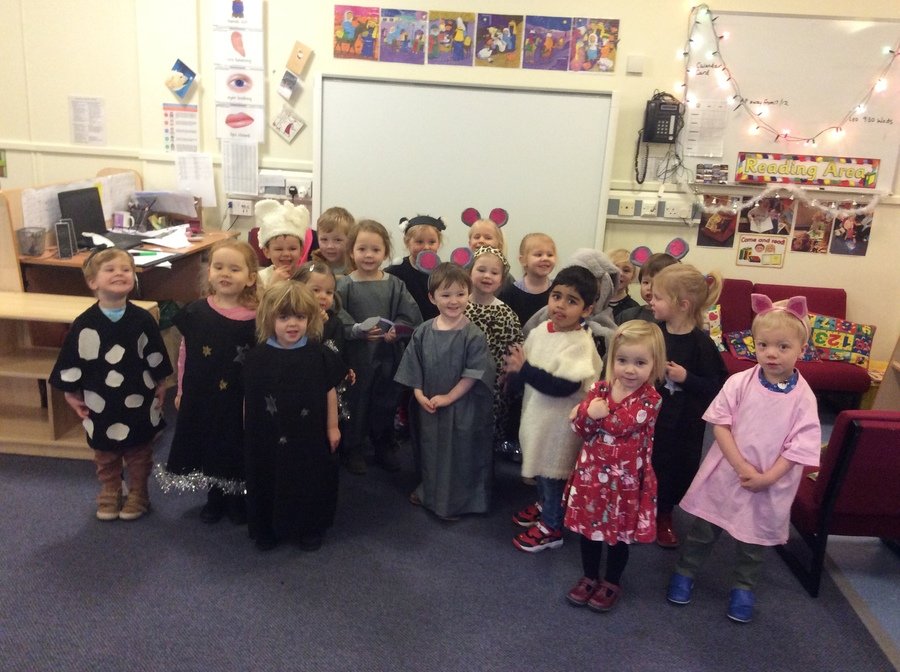 Friday 13th December
We've had a busy week rehearsing for our Nativity and sorting our costumes. The children have learnt the songs and actions and we are ready to go on Monday!
We have enjoyed Christmas crafts and used tweezers to move pom poms on baubles.
We had a fantastic time at Blossom Court. It really is a lovely event and the children did us proud. They sang charmed the residents with their smiles and their singing!
One week to go! Nativity Monday, a visit from the police Tuesday and party Friday.
Friday 6th December
The children were busy putting out fires and 'helping people' this week until...our Christmas tree arrived!
The tree has been decorated several times over; all good practice for fine motor skills. There was some lovely sharing and cooperation and lots of ' leave it!' to each other. I have explained that we shouldn't touch the trees at home and in public without asking first!
We are doing well learning the Nativity songs and will be going in to the hall to find out where we sit etc.
Our reading area is very popular in its new position in the classroom. The children look at books independently, with each other and listen to adults read to the class and in smaller groups. They have favourite books they return to but enjoy looking at non-fiction and new stories. It is also our cosy place where some children relax (and sleep!)
There are lots of poorly children at the moment with coughs, colds and 'sicky' bugs. Please remember the 48 hour rule after an upset tummy.
Next week: The Christmas Story and rehearsals.
November 29th
We have been keeping Yeadon safe this week!
The children have enjoyed our police station, taking turns to catch 'the naughty guys!' We discussed the other ways in which police officers can help us and have talked about road safety. We thought about other 'warning' lights and what they mean. There have been lots of opportunities for language development, speaking in sentences and learning new vocabulary. We are having a visit from a police officer in the last week which will be very exciting.
We used the horrible wet days to experiment with colour. We added powder paint to puddles and used chalk to see what happened when we wet it, with interesting results.
We have started learning the songs for our Nativity and listened to the Nativity story to give it some context. 2 weeks to go until the performance!! If you are able to join us please make sure you have ordered your tickets!
Next week: the fire service and LOTS of Nativity play rehearsals.
October 25th
Thank you so much to those parents who were able to join us yesterday for our crafts and coffee session!
The children coped brilliantly with the change in routine and it made a lovely end to a very long half term. We hope you enjoyed seeing some of the types of activities the children are involved in. The children all said they enjoyed it, even the ones whose parents were not there and I'm sure its not just because of the biscuits! Thank you also for your Harvest gifts.
We have explored 2D shape through games and activities this week, found shapes in our environment and created pictures with shapes.
Enjoy the break, hopefully the children can rest(!) and get rid of the coughs and colds ready for the next half term.
Next time; Light and dark and..........CHRISTMAS!
October 18th
We continued looking at Autumn this week and found out what hedgehogs do to prepare for winter. We used our fine motor skills to add peg spikes to hedgehogs and in threading fruit and vegetables onto a lace.
We have compared different sized pumpkins and squash and used our muscles to lift the biggest of all. The children made healthy harvest baskets, choosing fruit and vegetables that they like and talking about why they are good for us. We explored root vegetables in the water tray to make some lovely soup and sang a counting song that involved shiny conkers and a very hungry squirrel!
Next week- Shape week.
Please join us if you can for crafts and coffee on Thursday at drop off time.
October 11th
We managed to get outside, in between the showers, to look for Autumn 'treasure'. Our grounds have lots of beautiful trees so we were able to find, name and talk about Autumn and the changes that take place. We have played Autumn 'I spy', mixed Autumn colours and painted leaves.
We replenished the resources in the mark making area which has prompted lots of super, writing, colouring and drawing.
The most popular activity this week has been serving in our fruit and vegetable shop. The scanning and till work has been superb!
Next week -Harvest
October 4th
This week we have done lots of activities which involved using our senses to explore our setting, unusual objects and the world. The children have enjoyed smelly pots, listening games, feely bags using our fingers not our eyes and lots of talking! We learnt new words to describe the texture of things, chatted about our favourite foods and smells and talked about objects and equipment that help us to see.
The 'song bag' game is super popular with the children who have now cut out the middle man and play the game beautifully without adult help!
Next week; Autumn
September 27th
Yeadon Medical Centre must have been very quiet this week because our surgery was very busy!
The children showed their very caring natures as they looked after each other in our role play area. We learnt new vocabulary and used the telephone to book appointments.
We talked about keeping clean and healthy and gave our babies a very gentle(!) bath.
We really enjoyed our listening walk around school. We listened carefully to identify sounds. Unfortunately for us school was very quiet at the time!!!
Next week- Our senses
September 20th
This week we have focused on ourselves and our family. We have really enjoyed looking at the photos you have sent in. The children have proudly named their family members and told us things they like to do with their family.
We used mirrors to look closely at our features and made each other laugh pulling faces and copying expressions. We have looked at photographs and tried to say how the person was feeling which led to lots of brilliant talking: what makes us happy, grumpy, worried etc
Outside we gave the house a good clean with sponges, bubbles and copious amounts of water! Good exercise for hands and wrists as well as looking after our toys.
I am very impressed with how well the children are coming together as a group already. They really enjoy stories and are sitting well to listen. At circle time everyone is joining in with our songs and answering the register in a good clear voice. Brilliant!
September 13th
Welcome to the start of a new year in Nursery. Our children have settled quickly, new friendships are being forged and the new starters have quickly learnt our routines.
A fab start!