Friday 16th November
Our dark cave was the place to be this week! The children really enjoyed exploring the dark with torches, some were more comfortable around the classroom but some brave souls risked the cave! The children have taken turns with the torches and supported each other when it was a little scary. We have talked about how the dark makes us feel and enjoyed lots of stories about the dark!
We have talked about animals that come out at night and have made nests for hedgehogs to hibernate. We have also thought about night and day and sorted objects that we use in each case.
We used bats for a counting activity and using positional language to place the bats.
Next week ;keeping safe, reflectors lights.
Friday 9th November
The children came in bright and enthusiastic this week and ready to see their friends.
We have talked about fireworks; what they look and sound like and how they make us feel!! We used the musical instruments to make our own firework sounds and made marks on the large tray. We have talked about some animals going to sleep in Autumn.
Water play took place in puddles this week; wellies would be a good idea!!!
Finally, we played a game called 'Silly Soup' where we add unusual items depending on their beginning sound. The children loved it and have played it all week taking it in turns to be Mrs Sudall. Very interesting hearing myself!!!
This morning we joined the rest of school in making a poppy to place on the grass bank as part of national Armistice day celebrations. We had some very good and thoughtful questions from the children which we tried our best to answer.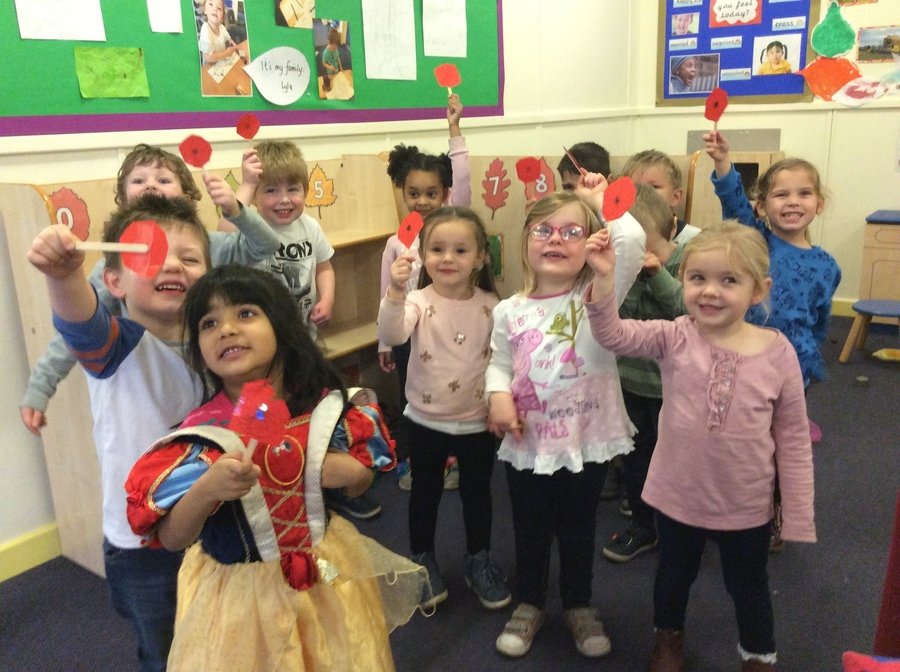 Friday 26th October
Fabulous shape work this week!
We have named, sorted, described, matched, found and built with common 2D shapes both inside and out, as well as painting on different shaped paper, printing and sticking.
The children are now shape experts (?) so it would be lovely if you could encourage them to spot shapes when you are out and about over half term.
Some children made collage pictures using natural objects and our Autumn tray is now overflowing with treasure they have found.
It has been a very successful half term of settling in and getting to know each other. The children deserve a rest and hopefully will get rid of the horrible coughs and colds that are lingering.
Have a lovely week together, we will be exploring light and dark when we return.
Please will you make sure your child has a warm coat and wellies after the holiday as we play out in all but the worst weather. Thanks
Friday 19th October
The fruit and veg shop has been very busy this week with shop assistants and customers.We have used vegetables throughout Nursery for describing, printing, painting, comparing size and weight and finger strengthening exercise in the form of scooping out the middle of a pumpkin.There has been lots of chatting about healthy foods and which fruit and veg we each prefer as well as paying in shops, numbers and counting.
We read the story 'Handa's Surprise' and children then acted it out.
Children have enjoyed mark making on whiteboards and mixing their own Autumn colours with paint. We also had a 'royal visit' from several princesses.
Everyone coped really well with the photographs on Thursday, they waited patiently for their turn and gave their most fetching smile!
Next week; shapes.
Friday 12th October
I thought we would show you the pictures of our lovely Autumn walk this week. We had glorious sunshine which showed the trees in all their glory. We stayed within school grounds to look for treasure and the children all filled a bag with leaves, pine cones and conker husks. I hope you appreciated them coming home!! The children listened carefully and followed instructions.
Thank you to everyone who joined us on Friday morning. I hope you enjoyed our very brief Harvest celebration, the children said they did!. I was thrilled with how the children coped with visitors and hope it showed you how well everyone is following our routines and joining in.(Fingers crossed for our Nativity!!)
Next week;harvest on farms, and a fruit and veg shop.
Friday 5th October 2018
Two types of photos this week; some showing our work on senses and some of our new friends.
We played games and did activities that focused on each of our senses; feely bags, smelly pots, identifying sounds and exploring instruments, seeing far and near and a sensory basket to extend our language. The children were very trusting(well some were!) in our blind tasting session, we tried to describe fresh lemon, cocoa powder and icing sugar. The funny faces said it all!
I am thrilled at how the children are getting along. Children have joined us from a number of different settings, for some it is their first experience of Nursery and some have been here a year already. They are all at different ages and stages but are trying very hard to have fun. Some lovely friendships are developing but the nicest thing is when the children play together in a large group.
What a lovely bunch!
Next week Autumn and Harvest.
September 28th 2018
The doctors surgery has been very busy this week! People have struggled for an appointment.
There has been some fabulous imaginative role play and language as the children looked after each other, used the telephone and wrote prescriptions. Sore throats and ears seemed the most common ailment!
We have been talking about keeping clean and healthy, comparing height and naming parts of the body.
The group are gelling well and often play games all together which is lovely to see. We have had a bus journey and lots of picnics already!
There was science in action when the children discovered that they could change the sound of popping bubble wrap by changing the speed they rode over it.
In real life the sickness bug is going around . Please remember if your child is sick they should wait 48 hours from the last time they are sick before returning to Nursery.
Next week;the senses.
September 21st 2018
Welcome to everyone old and new!
We have had a lovely couple of weeks settling in and getting used to routines. The children have made new friends and renewed old ones. It does feel like our brand new children have been here forever as they have adapted so well in such a short time.
Here are just a few pictures from the start of term to show what we have been up to.
Next week; our bodies and keeping healthy!