Welcome to Pear Tree Class!
INFORMATION FOR PARENTS
Year 1 Pear is taught by Miss Schofield with support from Miss Peacock and Miss Sanderson.
Due to crowding concerns, we ask all Year 1 parents to say goodbye to their child at the door of the cloakroom. Any urgent messages that need to be given on a morning, please speak to the teaching assistant in the cloakroom.
Feel free to come and talk to us after school any day!
PE: PE lessons will be Wednesday and Thursday each week, but please ensure your child has their PE kit every day. If your child has earrings please remember to tape over the earrings or remove the earrings on PE days. Long hair will need to be tied back for all PE lessons.
Reading books:
These will be changed every Tuesday and Friday. Please try to read with your child on a morning or weekend (when they are alert) as much as possible and ensure you make a note in their reading record to say they have read.
Please make sure your child has their reading book in school every day.
Homework:
Homework will go home every Friday and should be returned by the following Thursday.
Spellings: After the October half term holidays, spellings will be sent home every Friday and are tested the following Wednesday afternoon.
Top things to do at home to help your child:
Maths:
Daily counting forwards and backwards from and to 100.
One more/One less than any given number.
Guess my shape/number (give lots of verbal clues).
Counting things in 2s, 5s and 10's
Spotting numbers and patterns around the house and environment.
Odd and Even numbers
Ping Pong - choose a killer number. Each person says 1 - 3 consecutive numbers until one of you reaches the killer number which means you are out.
English:
Writing simple sentences to be cut up and ordered by the child.
Asking you child to write simple sentences about anything they have done or are interested in. Encourage children to use phonics and tricky words/spellings.- check the prompt picture.
Remember finger spaces, capital letters and full stops.
Singing the alphabet, which letter is missing (encourage children to use the letter names).
Spelling words all the time - use letter names
Hangman (we play hangflower) Use phonically regular words or tricky words/spellings.
Practise handwriting - cursive letter formation can be seen modelled on youtube: Cursive Handwriting: How to Write the Alphabet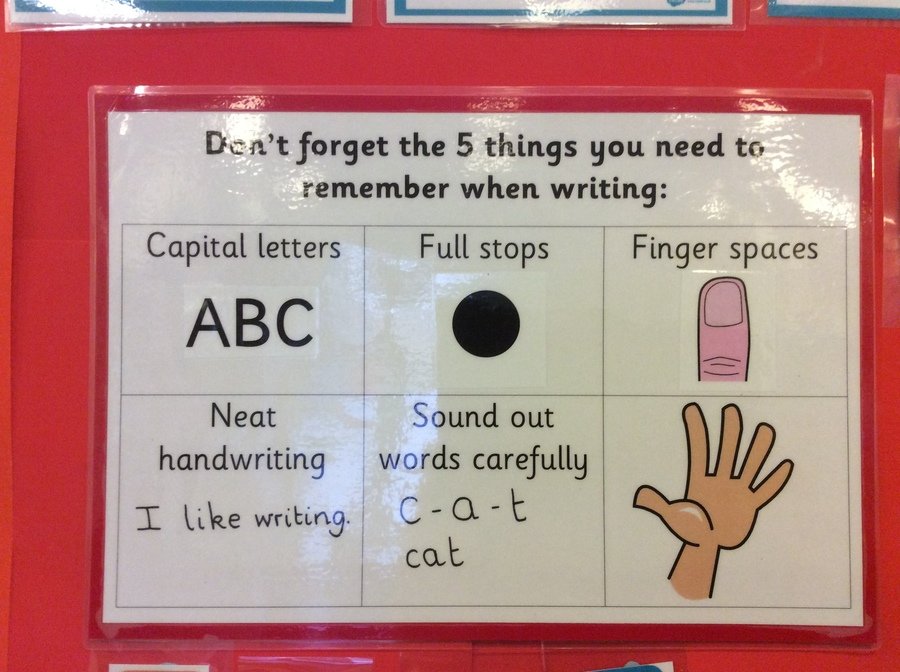 Autumn Highlights
03.10.18
This half term we have been settling in to Year 1. We have been really fantastic at getting used to sitting at our tables and working neatly in our books. We have talked about what qualities a Pear Tree member should have and how we would like to act in our class.
In English this half term we have been looking at the stories:
The Owl Babies
What the Ladybird Heard
We have been thinking about the character's thoughts and feelings; re-telling the stories; changing some of the characters; making up our own versions and describing some of the characters.
In Maths we have been learning about place value. We have been learning about tens and ones; greater than, equal to and less than; one more and one less, and which numbers are odd and even.
26.11.18
The children are learning to work together in their table groups but also as a whole class. We earn pompoms in our jar for good whole class work, behaviour or effort. At the end of this half term we had a lovely class treat because we got all of our pompoms in our jar. The children chose to have a teddy bear day where the children all brought a bear into class. They had a little picnic in the afternoon and the children were all very sensible with their toys and played very nicely. Here is a lovely picture of everyone enjoying Teddy Bear day.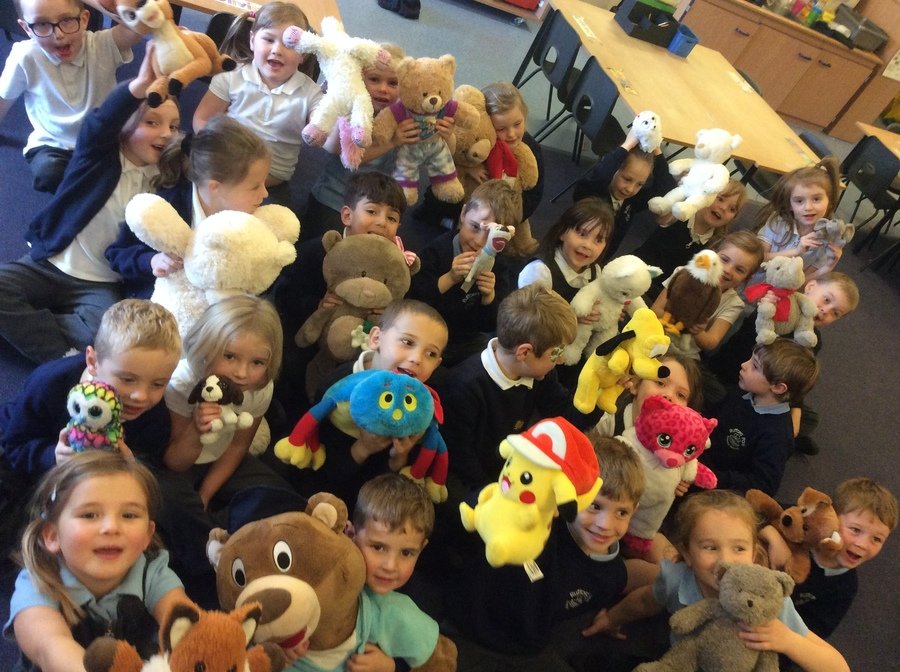 06.11.18
Welcome back to all the children in Pear Tree Class for our Autumn 2 term. We are looking forward to a happy, busy and cold half term.
This half term we will be continuing our instructional writing in English. In Year 1 children will need to understand and identify the features of instructions, and they will also need to be able to write simple instructions. In Maths the children will start to learn multiplication. They need to be able to count in multiples of 2's, 5's and 10's and complete simple multiplication challenges with support.
Our topic this half term will be Florence Nightingale. We have already started to learn a little about who she was and what she did. We hope that the children will be able to tell you lots of interesting information about her very soon!
09.11.18
What a busy first week back to school! The children have been wonderful and we have had a lovely week.
Here is a bit about our day with Florence Nightingale:
This week Florence Nightingale came to visit Year 1 to help us learn about her work in the hospitals during the Crimean war.
We sorted hospital objects into two groups:
Before Florence
After Florence
Looking at the objects before Florence was very smelly and dirty and it made us realise what a difference she had made.
Florence helped us to understand what roles people took in hospitals and the boys became porters and the girls became nurses. We went on a walk, all the way to Turkey and back, carrying supplies for Florence's new clean hospitals.
When we got back we had to clean up the hospital, so we got to work scrubbing, washing and sweeping the hospital until it was gleaming.We had to make up a bed for a soldier, bandage his wounds with clean bandages and clean out his bedpan every time it was dirty. What a smelly job! We also made sure the injured soldier had lots of nutritious food to eat.
Have a look at some of the pictures below.
Almost 100 years on from the end of WW1, we remembered the soldiers who fought for us and the people and animals that gave their lives. We learnt about why we wear poppies and what happened in the war. The children were very respectful and enjoyed their day very much.
After Christmas we had a very busy few weeks. The highlight was our superhero day where we dressed up and completed hero themed work. We made superhero moving pictures, made up our own superhero theme tune using a backing track and musical instruments, and designed a cape after investigating what material we would use.
10.03.19
What a fantastic World Book Day we had on Thursday 7th March. Our chosen book was Stickman by Julia Donaldson and Axel Sheffler. We had some wonderful dressing up outfits and the children (and parents) all joined in the spirit of world book day.
Throughout the day we were able to:
Show off our costumes in the hall and hear a story about kindness
Make our own stickmen
Make our own bookmarks
Complete Stickman wordsearches, spot the differences, colouring sheets, mazes.
Act out the Stickman story using our dressing up characters
Look at the rhyming words in the book Stickman and complete some rhyming word activities
Watch the film Stickman
Meet some stick insects!
We hope you enjoy some of the photos below from our super stickman day.
28/03/19
This half term our topic has been weather. We have had a lovely time investigating the different types of weather and learning about temperature. We have linked our PE to our weather theme and we have been working on a weather dance for the last 5 weeks. Play our video below to see our weather dance. The children really threw themselves into it and we saw some lovely dancing and acting. Well done Pear Tree!
Music 1 - Out in the cold
Music 2 - Jogging to get warm
Music 3 - The rain comes
Music 4 - Welly walk
Music 5 - Too hot! - moving to relaxing in the shade
Music 6 - Leaves in the wind
Music 7 - Ring a ring a roses.
On the 3rd July we had a wonderful trip to Filey beach. The children all behaved really well and a fantastic time was had by all!
We walked down to the beach, walked along the promenade, listened to a talk by the lifeguard, played on the beach, paddled in the sand and had a lovely ice-cream.
Have a look at some of the pictures below.