Scroll down to see what we've been up to this half term!
Welcome to Year 5 Oak!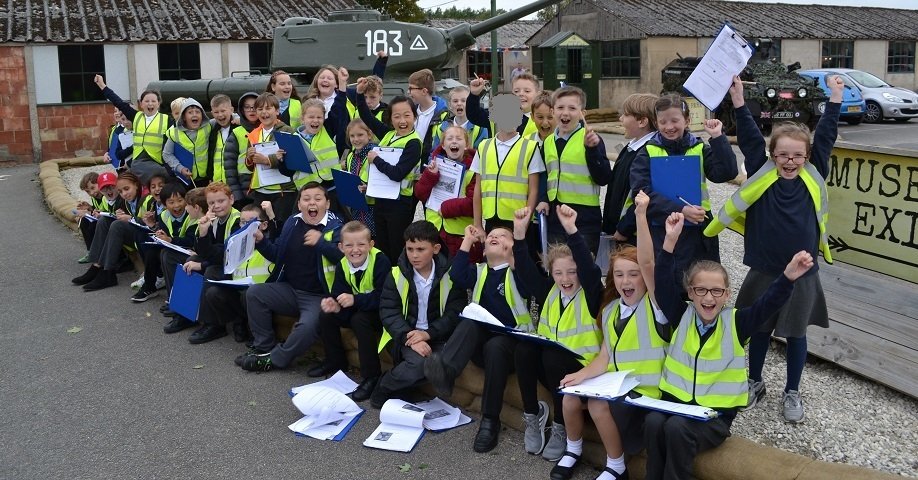 INFORMATION FOR PARENTS
Welcome to our class page! Year 5 Oak is taught by Miss Bairstow with support from Mr Gilbert. We're looking forward to a great year of learning – feel free to come and talk to us at the beginning or end of each day.
This year, alongside the school curriculum we plan to focus on...
Reading for pleasure – sharing book tips with our friends and discovering new favourite writers.
Becoming more resilient by taking risks with our learning – both inside and outside the classroom (e.g. through drama or school trips).
Reflecting on our work and learning from our mistakes (FAIL = First Attempt In Learning!).
Achieving all our times tables awards.

Improving our handwriting.
ROUTINES
HOME READING: This will be central to your child's learning this year. The expectation in Year 5 is that children read for 20 minutes at least 3 times per week – however those who make outstanding progress often read 5 or more times! Please record the book and page number in your child's reading record. Finished books will be changed every Tuesday and Friday.
HOMEWORK: English and maths homework is given every Friday – to be returned the following Wednesday. Please ensure your child does not forget the basics (neat handwriting, capital letters, full stops, etc).
SPELLINGS: These are given every Friday and tested the following Friday. They can be practised online by logging onto our Spelling App from this page and clicking on 'Year 5'. Children can also access the various Word Walls of essential high-frequency spellings.
TIMES TABLES: Instant recall of times tables is a crucial foundation of the more advanced maths we'll tackle this year. Children are therefore expected to practise at home regularly (Mathletics and Hit the Button can help here).
PE: Oak Tree Class have PE on Tuesdays and Wednesdays. Please ensure your child brings their full PE kit (including trainers) every Monday – they can be taken home at the weekend for washing.
HOW TO SUPPORT YOUR CHILD'S LEARNING
Read with them every day, asking lots of questions to check their understanding and discussing tricky vocabulary. Ask your child if they won a house point for their reading last week!

Help your child achieve all their times tables awards. Regular use of Mathletics or Hit the Button can be a huge help here.
Encourage them to earn all their gold bars on

Mathletics

– which covers the majority of the maths curriculum. They can win a gold bar by achieving at least 85% on a task.
Encourage use of the school's Spelling App

- both weekly spellings and the Word Walls for essential high-frequency words.

Help your child to reflect on their homework by looking back on aspects they found tricky or doing extra research.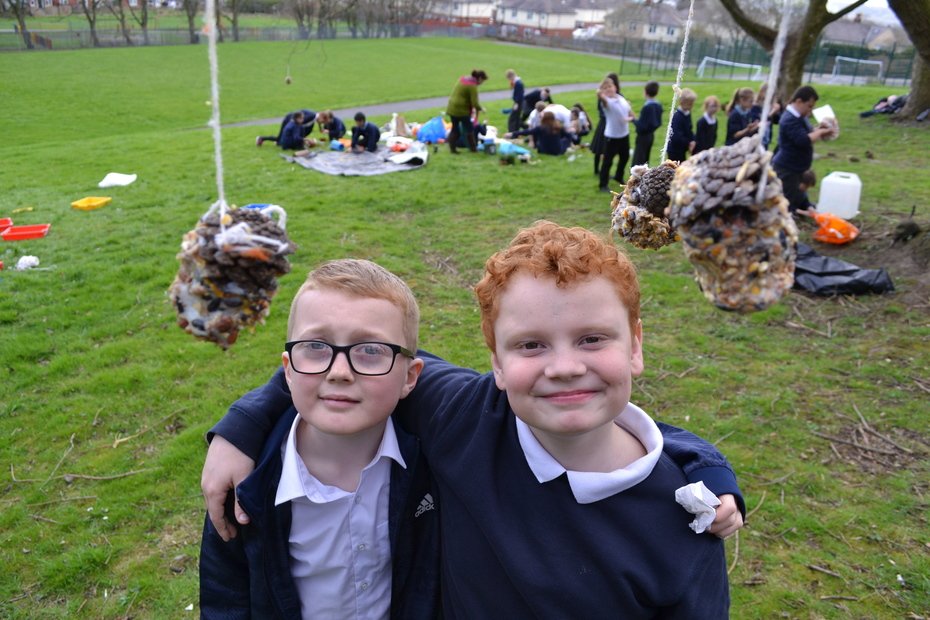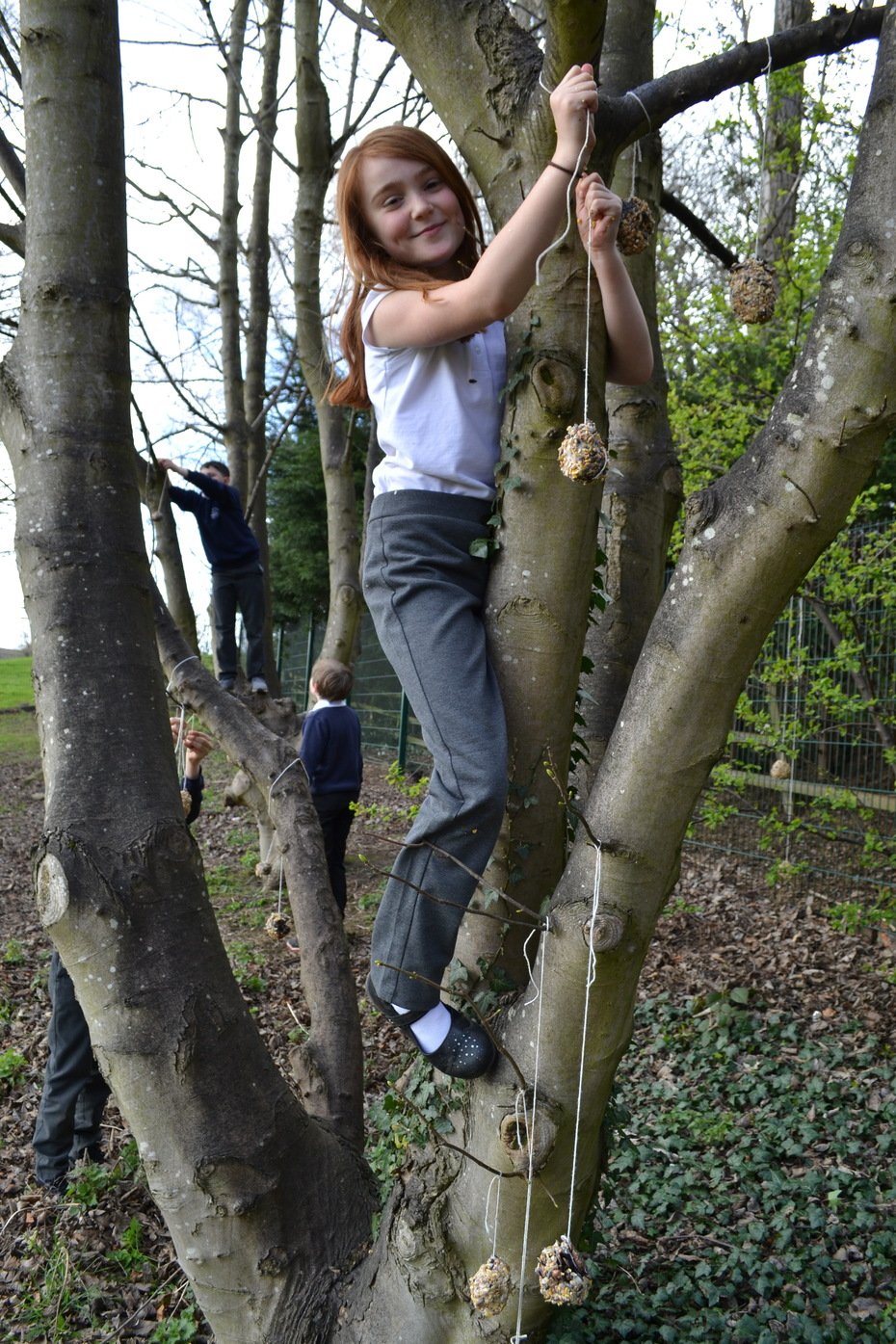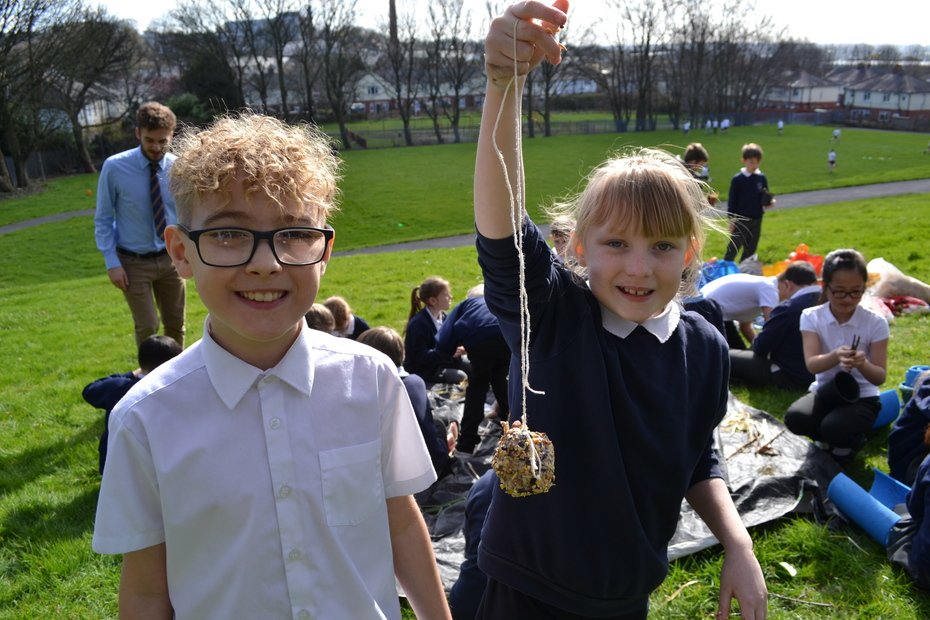 Forest School Workshop
Year 5 enjoyed a visit from Mrs Celli of the Yorkshire Forest School as part of our science topic on Living Things. The children had a fantastic afternoon in the sunshine, creating bug hotels and bird feeders beside the school field. We plan to develop this area into a minibeasting zone in the near future.
Click below to enlarge a photo.
Spring 1
Rainforest Topic
This term our topic is Rainforests and the Ancient Maya. In Oak Tree we have produced several fantastic pieces of writing based on rainforests and created some amazing pieces of art. Take a look at a few examples below!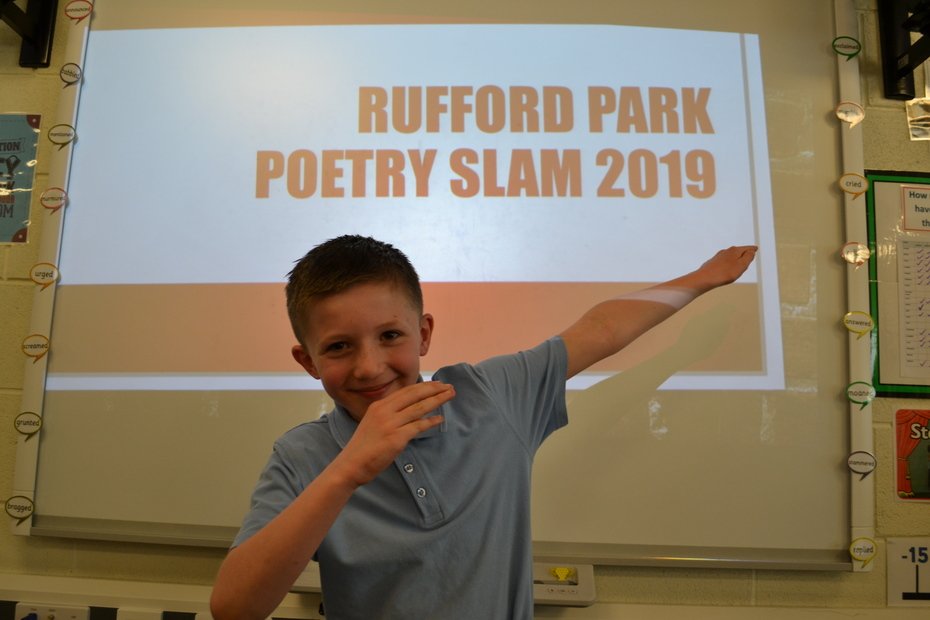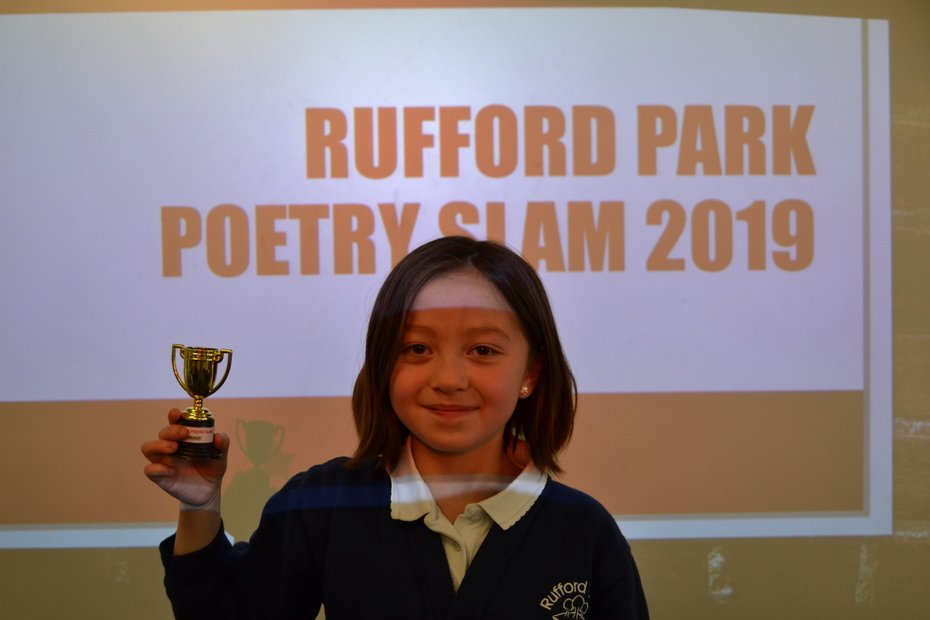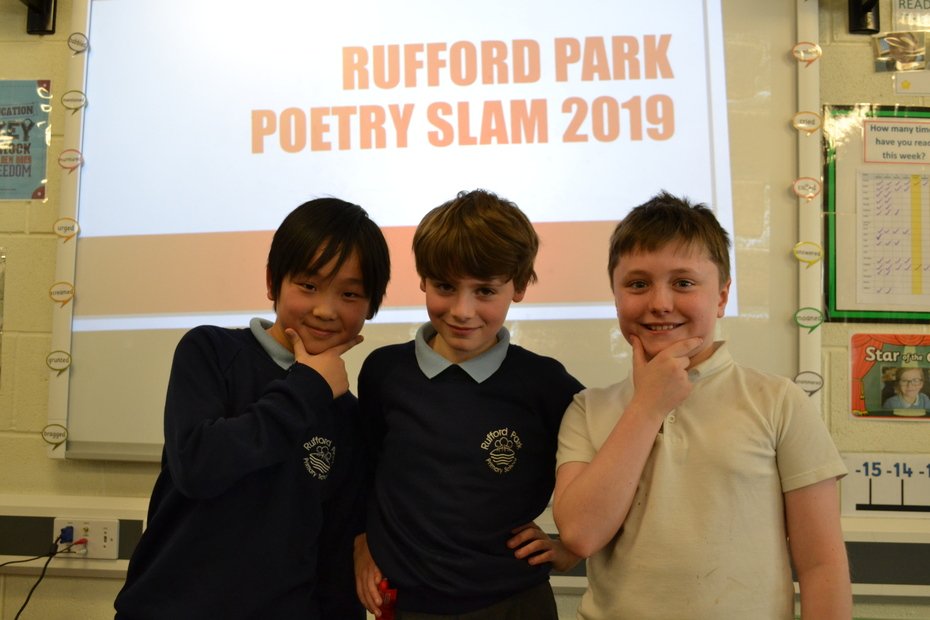 Poetry Slam
Year 5 concluded this busy half-term with a live Poetry Slam! The children performed a mixture of famous poems and original compositions in front of a live audience and were awarded marks for their delivery and expression. Congratulations to all our finalists… it was so difficult picking a winner!
High School Musical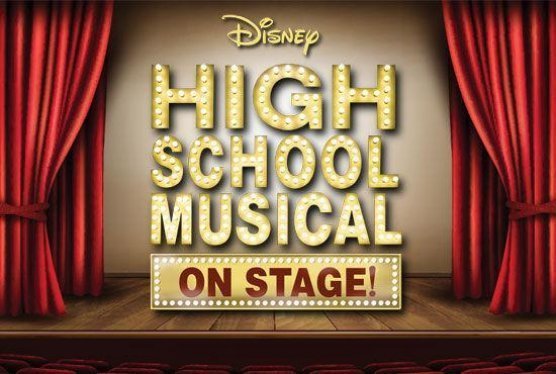 Many thanks to Benton Park School for inviting us to a sneak preview of their fantastic production of 'High School Musical'. Our children were really impressed by the brilliant acting, singing and dancing!
D&T - Baking WW2 Carrot Cookies
Year 5 had an incredibly busy term in the run up to Christmas, they continued to learn about World War Two with a visit from Judith Rhodes and tried their hand at baking some traditional carrot cookies using a rationed recipe! These were then given out to the audience at their World War Two inspired Christmas performance, which allowed them to share what they have been learning this term with family and friends!
Science at Benton Park
In December, Year 5 were invited to spend a morning at Benton Park to develop their investigation skills. Our Science topic this term was "Electricity" and our morning at Benton Park enabled children to experiment with a range of equipment and learn from two specialist Science teachers! They focused on building different types of electrical circuit and drew diagrams of what they had done using the correct symbols to represent the components. Finally, they finished by making their own working buzzwire game and had great fun trying them out!
Take a look at the pictures below to see how we got on!
MERRY CHRISTMAS!
Oak Tree had a fantastic day wearing their Christmas jumpers to their Year 5/6 party and would like to wish you all a very merry Christmas!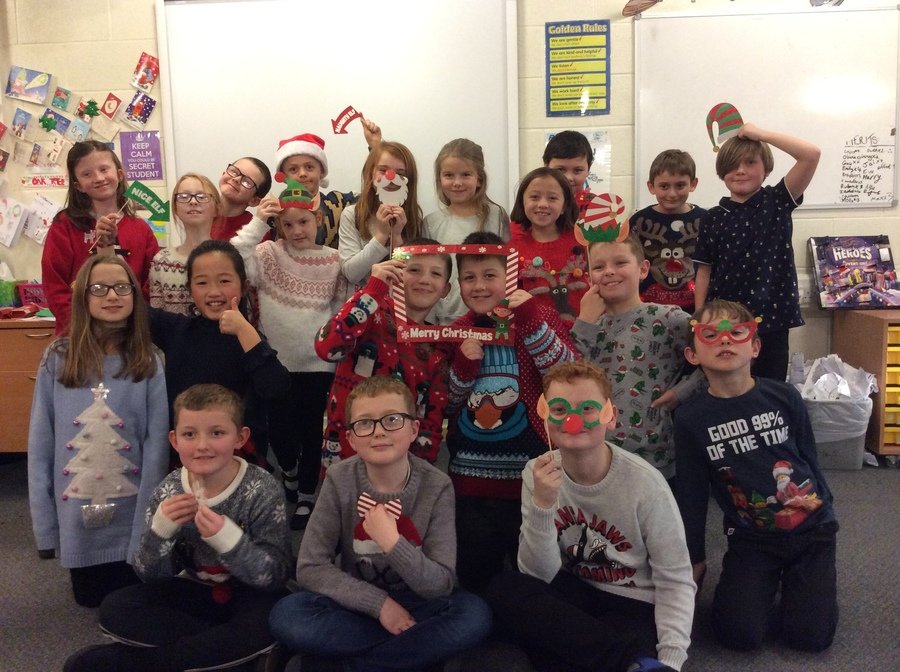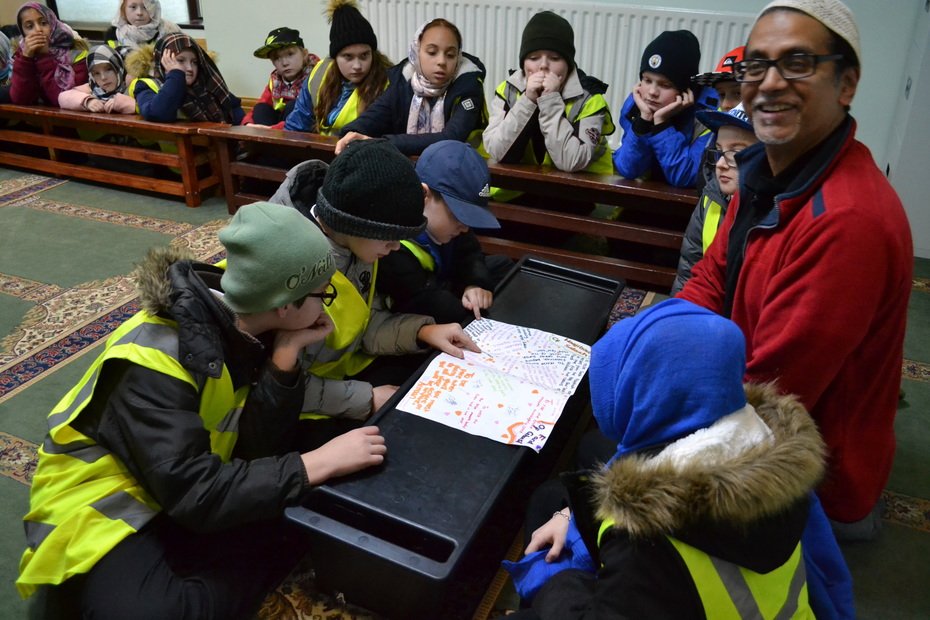 Mosque trip
Oak Tree Class enjoyed a visit to a mosque in Bradford as part of our RE topic. We were given a tour of the building, followed by a talk about the different beliefs and traditions of the Islamic faith.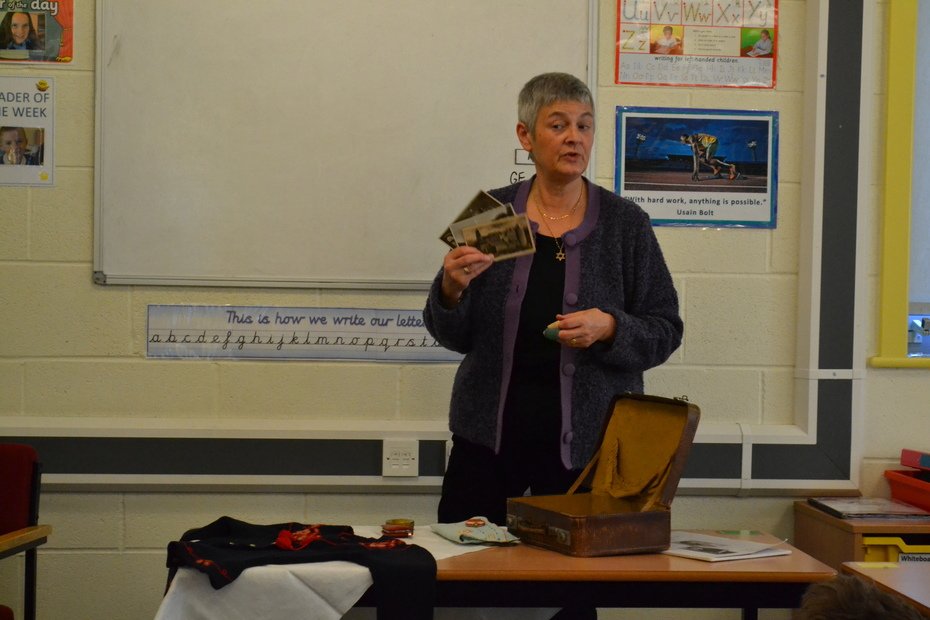 Judith Rhodes talk
Many thanks to Judith Rhodes, who visited our class and taught us about the Kindertransport for our WW2 topic. Judith showed us a documentary about her mother, who came to Britain in the 1930s after escaping Nazi Germany. She also brought the actual suitcase her mother used while fleeing persecution and some of her original possessions, before taking questions from the children.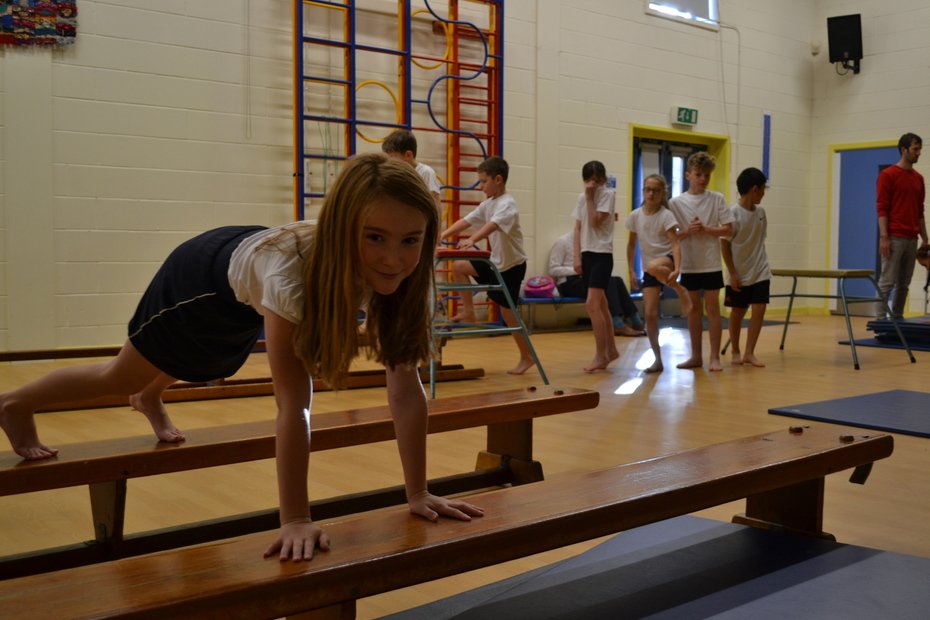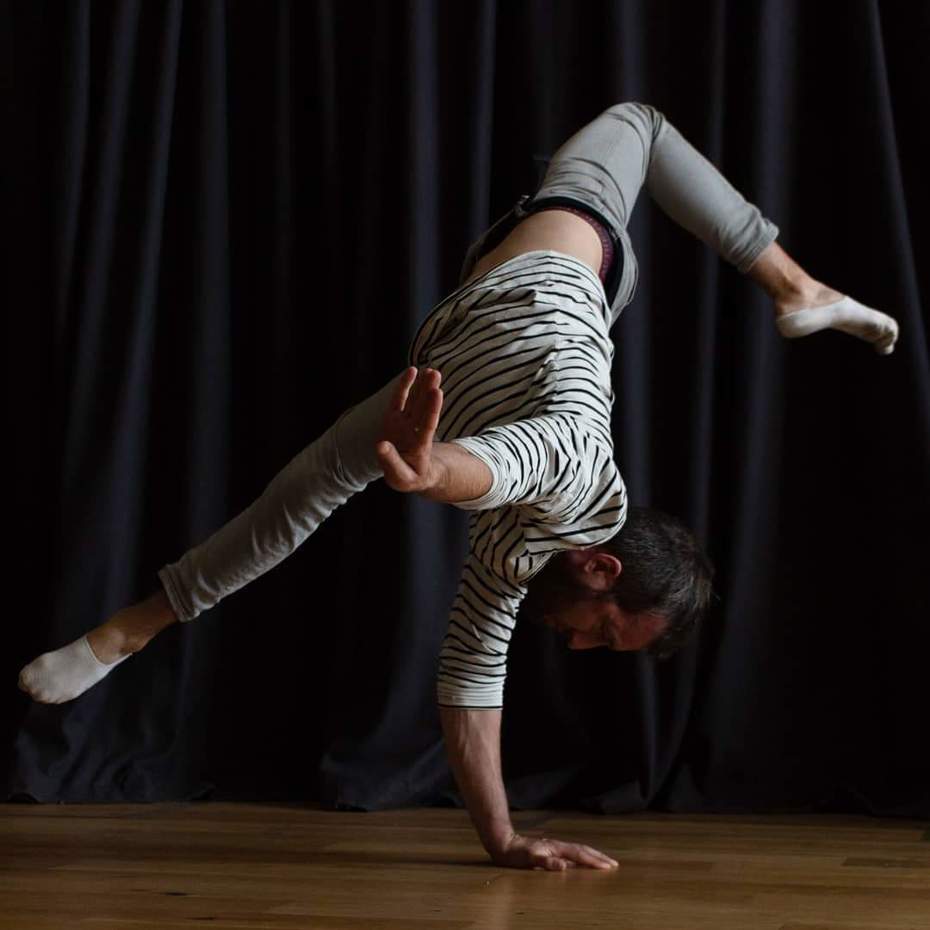 Gymnastics workshop
Gymnastics expert Jonathan Last led a series of exciting workshops for Year 5 throughout the morning, before giving an assembly on 'learning new skills'. He finished by showing us a standing backflip!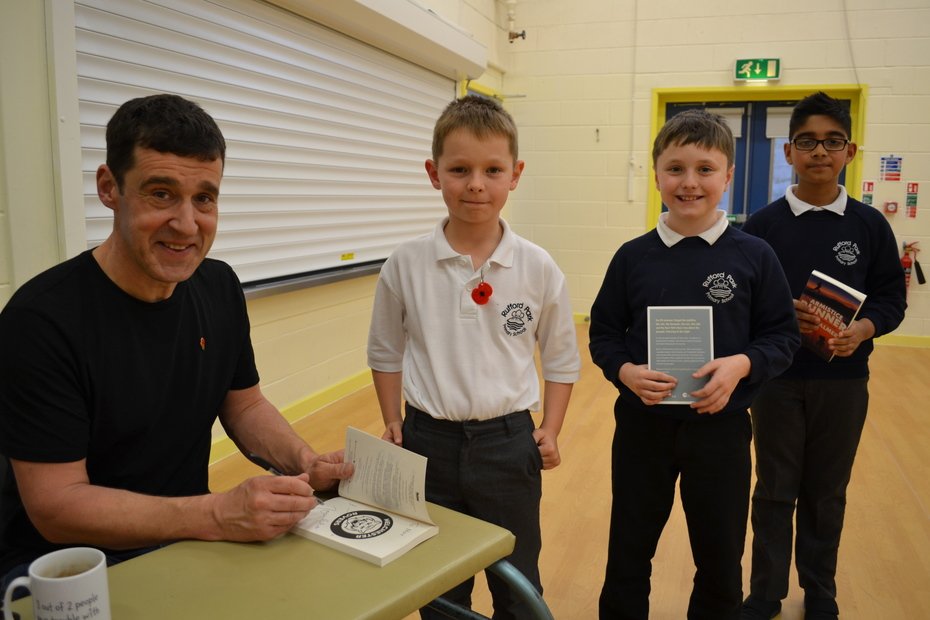 Author Visit & Armistice Centenary
Key Stage 2 enjoyed a visit from popular children's author Tom Palmer, whose latest novel - Armistice Runner - is partly set during the First World War. As part of the commemorations for the Armistice Centenary, we also decorated the school with poppies and visited Yeadon Town Hall to read the names of all the local men who fought in the conflict.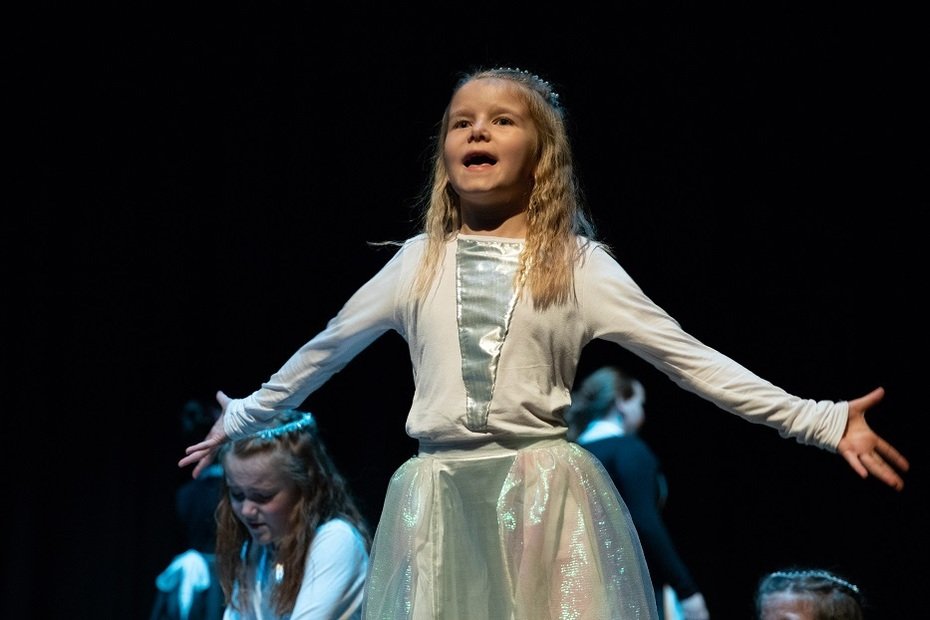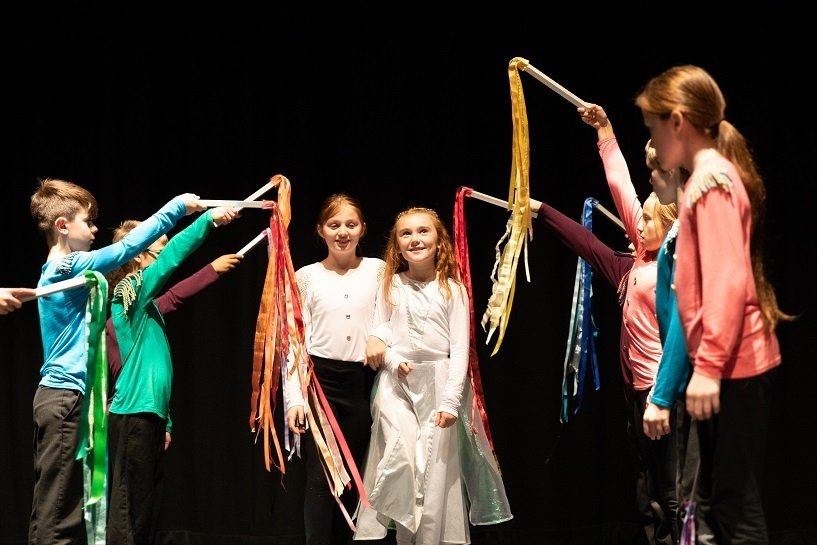 Romeo & Juliet
A huge congratulations to our KS2 Drama Club, who gave an outstanding performance of Romeo and Juliet at the Carriageworks Theatre in Millennium Square. Our young cast performed brilliantly in front of over 300 paying members of the public as part of the Shakespeare Schools Festival 2018 - a date they'd been rehearsing for since May.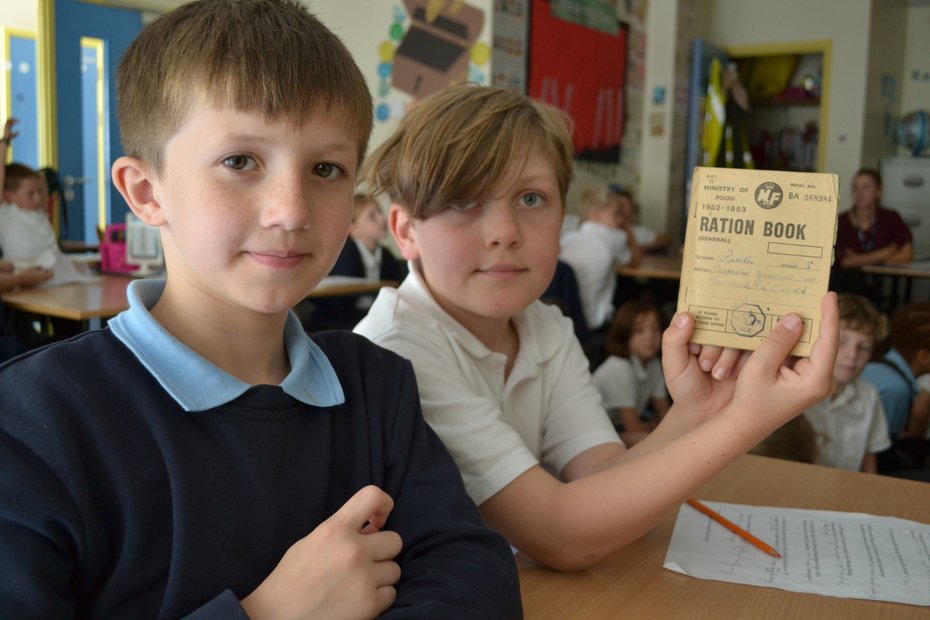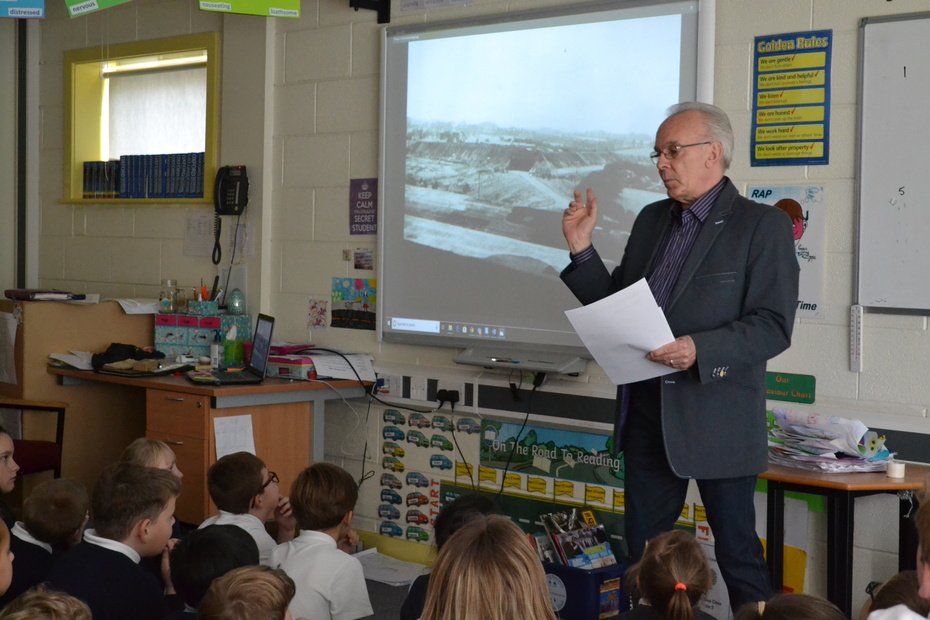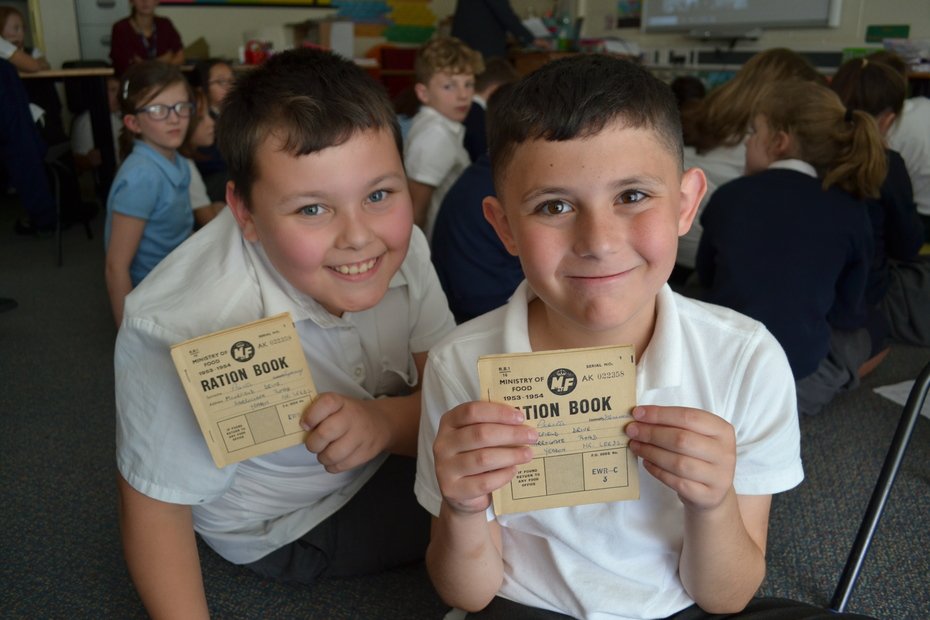 Local History Talk
A huge thanks to Carlo Harrison of the Aireborough Historical Society for delivering a brilliant local history talk to Year 5 for our World War 2 topic. The children were fascinated to see pictures of Yeadon during the Second World War and handle original artifacts from the period.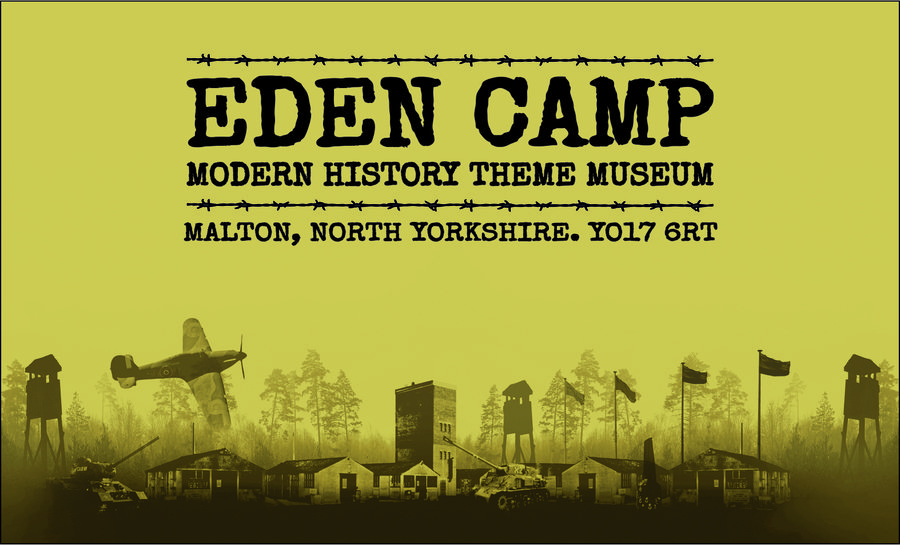 Eden Camp Trip
We had a fantastic day out at Eden Camp in Malton as part of our WW2 topic! This unique modern history museum was built on the grounds of a former prisoner of war camp. The children experienced the sights, sounds and smells of life on the Home Front and Front Line - including the Blitz, a German U-boat and a 1940s music hall.
See the photo highlights below!